If you're anything like me, your days are filled with more questions than answers. Since almost everything about business is new and different, I find myself wondering what my peers are thinking and doing. How is their business fairing during the wreckage known as COVID19? How are they responding? When do they think this will be behind us? In the absence of a good COVID19 playbook, I'm looking for something to benchmark against.
A few weeks ago, in preparation for an ISA webinar with Economist Alan Beaulieu, ISA posted a simple industry pulse survey with the goal of capturing the current sentiment of the channel. To set the stage for our speaker and the audience, we began the webinar by sharing the survey results with the audience.
The survey, which was open to all industry professionals for a little over two weeks, asked a few brief yet relevant questions. Over 250 individuals responded representing a nice cross-section of manufacturer, distributor, IMR and service provider companies with a fairly equal distribution in revenue size.
Right off the bat, we wanted to know whether the companies in our channel were receiving the coveted designation of "Essential Business" by their local government. We are happy to report that 94% of the respondents indicated that their company was given the green light. This stat shows the importance of our supply channel to those impacted by the virus and to society at-large.
Now on to the sentiment…
The Point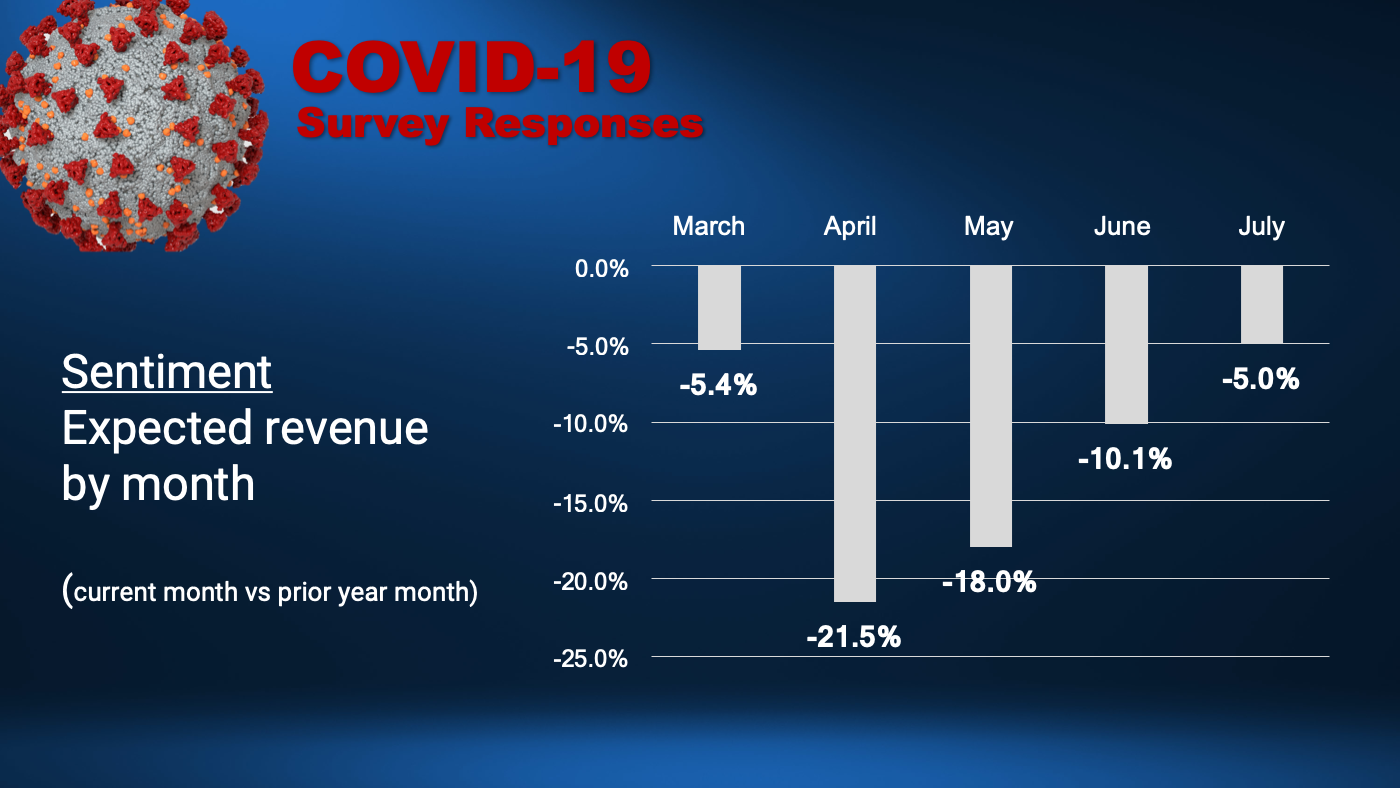 We asked individuals to share what they expected for revenue for the next several months. The forecast for April was an average drop of 21.5% compared to prior year. Make no mistake, this is rough. Responses did vary with some down as much as 70% (think aerospace and automotive) and others doing okay (think safety and PPE). Post April, things begin to improve with the average revenue actually returning to pre-COVID levels by July. This could be signaling that companies may not be forecasting based on a return to business-as-usual but rather an adjustment to the new normal.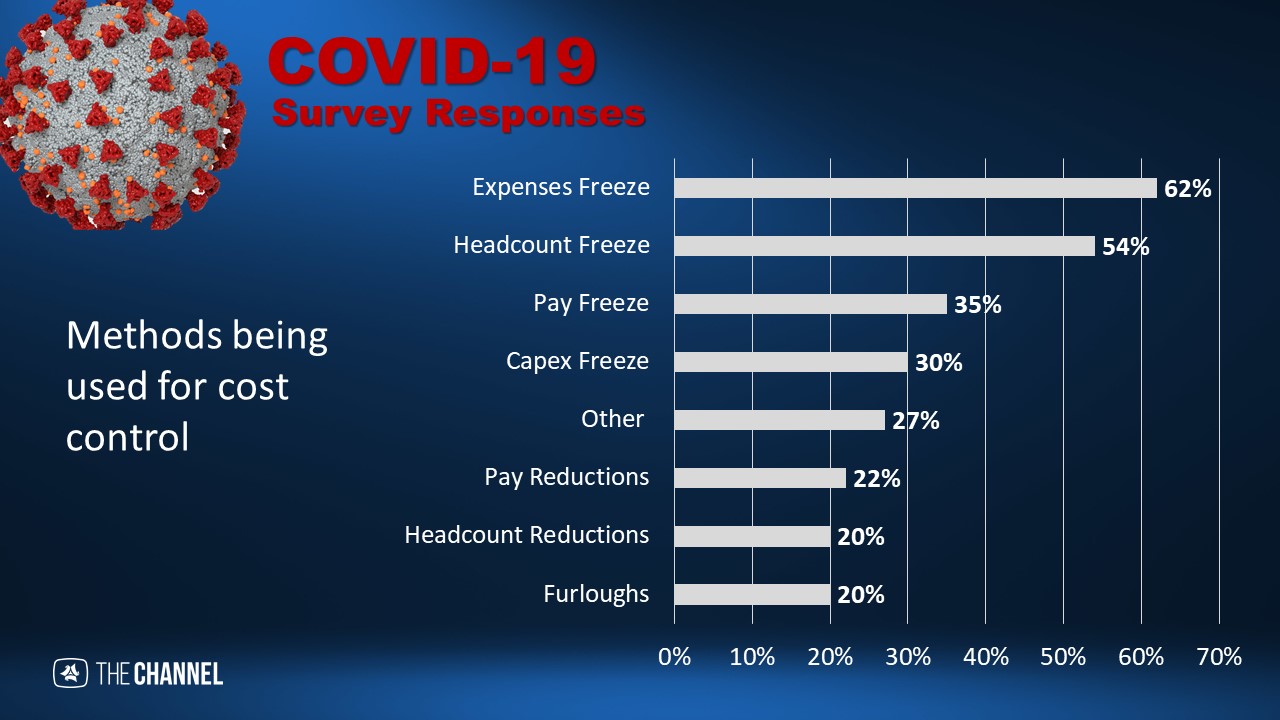 Switching over to the cost side, we asked what actions companies were taking to contain costs. Freezes in headcount, expenses, pay and capex were the measures most taken with reductions in headcount and pay as well as furloughs following behind. We did have a quite a few other responses including; inventory related measures like delayed purchases, reductions or return freezing and; employee related measures such as reducing 401k contribution matches, eliminating overtime and part time rotation to avoid layoffs. We heard from a lot of companies sharing that they applied for the Federal Payroll Protection Plan (PPP) but the news has not been great thus far on actual approvals. Our economist speaker praised this list of cost containment measures as the right approaches given these uncertain times. So if you are looking for ideas… take your pick.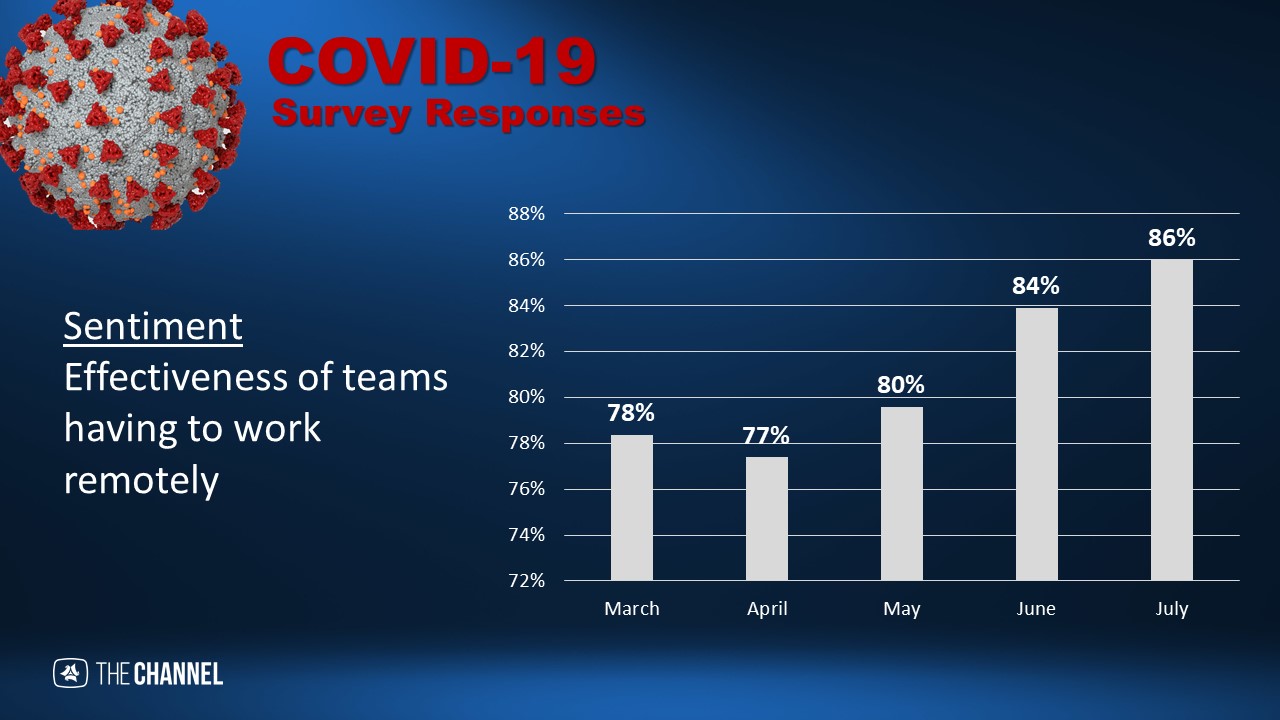 Speaking of employees, 94% said that their companies were having employees work from home (WFH). Pre-COVID less than 4% of the total US workforce exclusively worked from home. With that number sure to continue to rise it begs the question; how effective are remote employees? The survey responses showed that remote employee effectiveness was expected to dip in March and April as many companies scramble to get the right technology in place and train their people how to use new tools. However, the survey data indicated that WFH employee effectiveness are projected to reach nearly 90% by July. Practice makes perfect!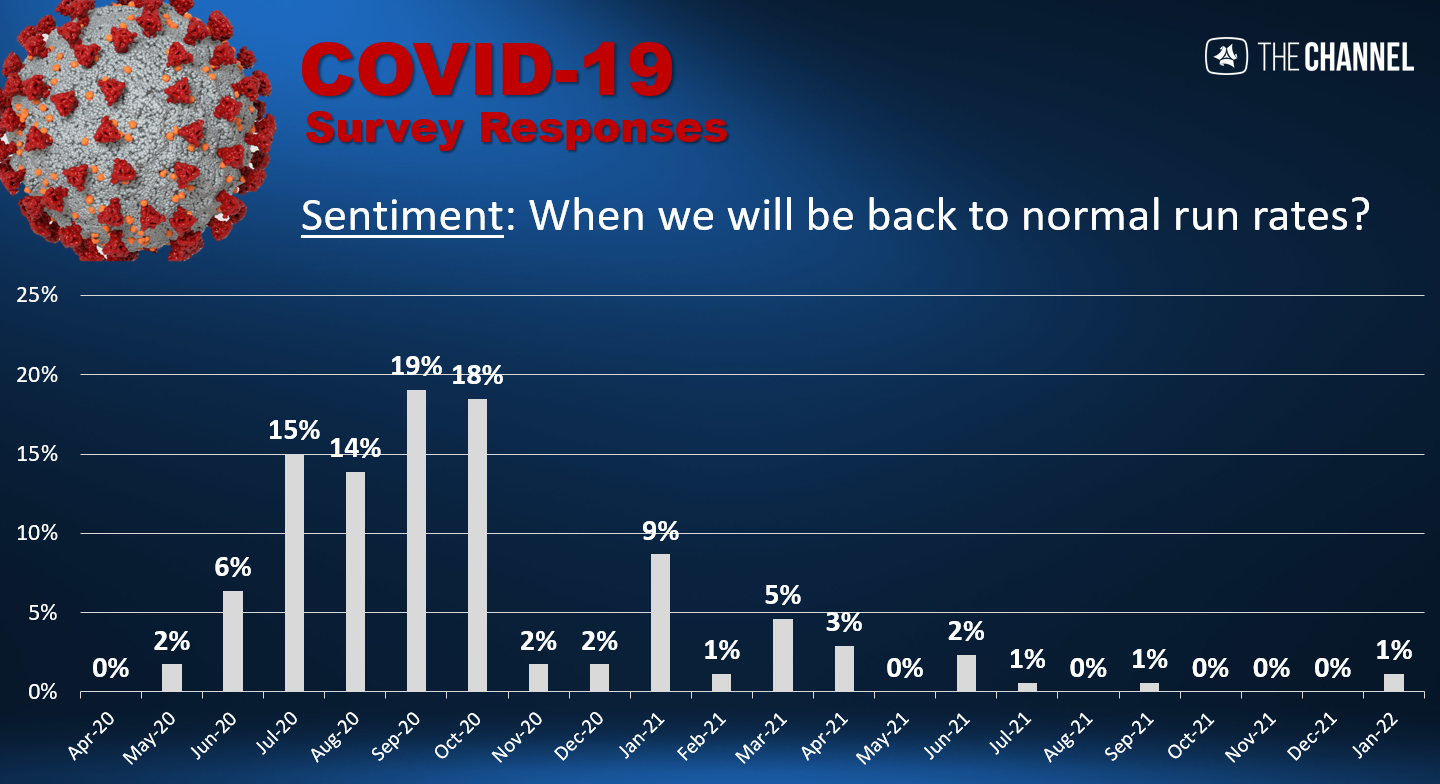 And the question on everyone's mind… when will companies return to normal run rates? While there was a lot of optimism around a return to normal in the fall of 2020 the responses also varied with many companies forecasting a return well into 2021.
Nothing is wrong with a little optimism but many unanswered questions relating to the virus still remain. When will states re-open? When will there be a vaccine? Will there be a second wave? The answers to these questions will have a dramatic impact on a return to any semblance of normal.
I am hopeful this optimism is coming from the creativity and innovation needed adjust to these challenging times. Like many of you, I still have more questions than answers so I'm glad to hear from my friends and colleagues.