What if I told you that within 15 minutes of finishing this post, you could be using your own company data to navigate the upcoming business cycles like a pro? Interested? Keep reading.
I'm talking about Top Line Pulse. ISA has created a super easy to use yet powerful tool that allows you to quickly and securely enter your monthly top line revenue and immediately:
See your data displayed on a graph in both 3/12 and 12/12 rates of change (ROC's help smooth out your trend line and limit the impact of outliers and volatility).
Select relevant industry indexes plotted with your data… indexes like US Industrial Production, Purchasing Managers Index, automotive and civilian aircraft just to name a few. We've also partnered with ITR Economics President Alan Beaulieu to provide accurate 3 year forecasts for many of these indexes.
Find your best match from the list of indexes that allows you to layer your data next to the index forecast that most closely correlates to your business… all done automatically with a push of a button.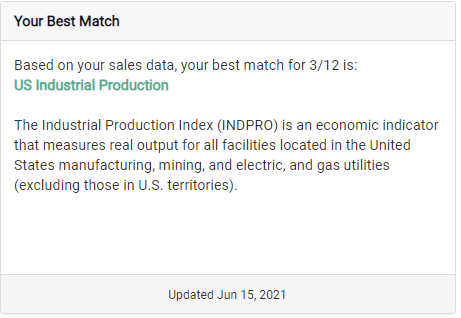 The Point
We are now halfway through 2021 and many companies are moving out of pandemic panic/survival mode and are able to think about big decisions. Examples could be investing in new technology or capabilities, acquiring another company or even positioning your company to be sold. There are many factors that could be impacting your business (labor issues, supply chain disruptions, new legislation) but before you make any big decisions, it's important to isolate what is happening now and decide whether this is part of the "new normal" or are these factors temporary.
According to Alan Beaulieu, President of ITR Economics, "these are temporary, though very real, problems, and they are not a great basis." Top Line Pulse (accessible only for ISA Members – Distributors, Manufacturers and IMRs) can give you the confidence to look beyond the current disruptions to see what economists are thinking about the future. By looking at your own data and the correlating index projections, you can navigate the future more confidently and decide when the right time to act is. "ISA provides the thought leadership, the structure, and everything you need" says Beaulieu during his recent keynote at ISA 21.
To better understand how Top Line Pulse works, I highly recommend everyone watch this short (8 min) overview video. It will give you everything you need to get started.
Click here to go to Top Line Pulse.
To take advantage of Top Line Pulse, you must be a current ISA Member. Not a Member? No problem –  Click here schedule some time to talk with the ISA team about whether ISA Membership is right for you.